I Have A Thing About Heights
As I was reading
this story
about the Skywalk that the Hualapai want to build out over the Grand Canyon I was reminded of Tybee Island. You see that picture of me atop the Tybee Island lighthouse and you probably have no idea of what was involved in reaching out to that rail and moving away from the wall of the lighthouse.

A group of MSN 50s Chatters… it was Sheri and Mike's idea actually… decided to meet out on Tybee Island to put faces to screen names, and there was this lighthouse which, naturally, begged to be climbed. Here's the thing though… I have an issue with heights.
I get to the top of the stairs inside with Kathy and Linda, and Linda… bless her heart… steps off to the side saying that she's afraid of heights and wants to stay inside. I've fallen into the habit of teasing Linda and there is no way I can say, "Me, too." I have to talk her into stepping out onto the top.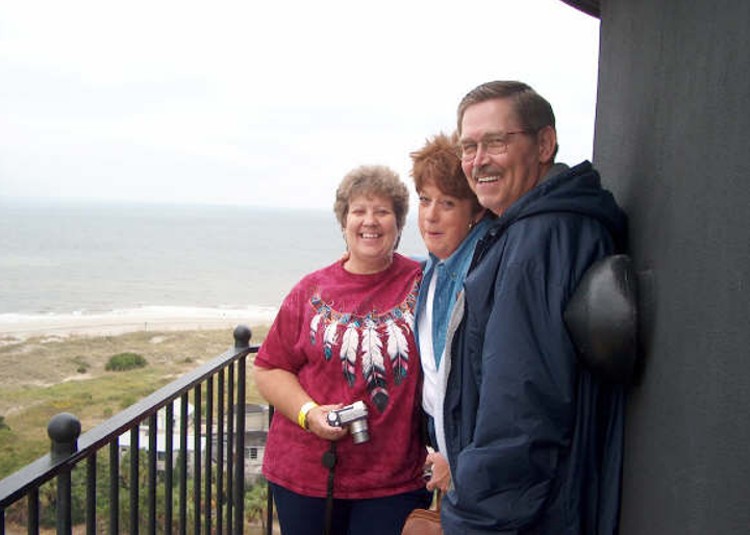 So out we go… Kathy who is ex-Army and fearless, Linda who is scared to death but game, and me. If you can see the picture you'll see that Kathy is enjoying herself, and that Linda looks… uncomfortable. Did you notice that my back is pressed to the wall? My scapulae were actually trying to cling to the wall. Then the guilt started. I had talked her out there so after she went back in I had to go around the top… and I had to have my picture taken out on the rail.

Linda, if you see this, it's your fault. If you hadn't gone out there I could have just poked my head out the door and come right back in. As for this Skywalk? Not in this lifetime. Not in a million years.
Labels: Life